Latest Feature Place in Massachusetts history. How Massachusetts communities tie into US and state history and geography.

Recent Feature African Americans in Massachusetts. Two case studies on desegregation in 19th century Nantucket and Boston are presented as a curriculum model which features downloadable primary sources, and research questions and sample lessons that incorporate the sources and themes. Ties into curriculum frameworks.
Previous Theme What do you know about your state? How do you relate Massachusetts resources to your standards-based teaching? The Massachusetts Studies Project features the themes of Massachusetts History, Geography and Government in this section.
Previous Theme This section on Watersheds offers technology- based research and lessons that relate to the curriculum frameworks as well as resources that encourage teachers to use their own watershed for inquiry, hands-on experience and problem-solving.

Primary Sources The Massachusetts Studies Project (MSP) at the University of Mass. Boston has produced an Electronic Library on Industrial History featuring primary materials on several industrial cities with an emphasis on Fall River, Lowell and North Central Mass.
Massachusetts Firsts Massachusetts Firsts is a new feature on our site. Massachusetts as an early colony and state can be justifiably proud of many firsts in government, education, economics, health and welfare. We hope you will contribute to our listings.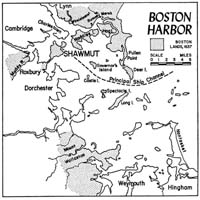 Featured Theme Boston Harbor and Islands brings together resources for teachers and students. Database listings, website links, special curriculum and teachers are featured.
---

Nominate a site or resource to be highlighted on this page by sending e-mail to the Massachusetts Studies Project