Massachusetts Studies Project
Teaching Tools for Local History:
** TIMELINES **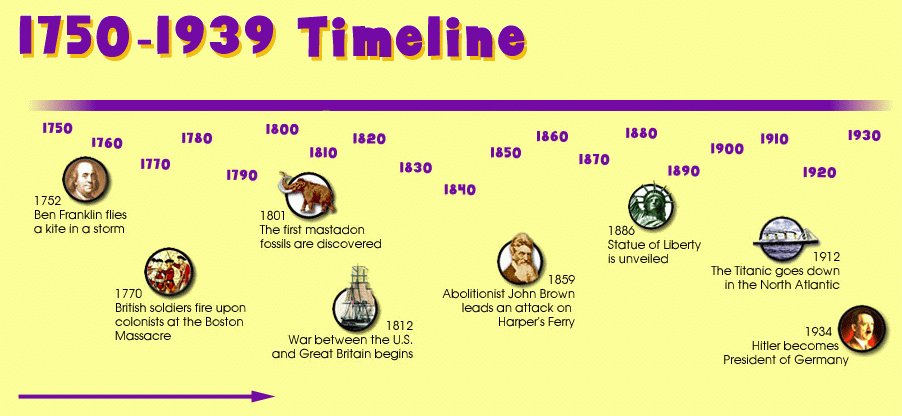 Introduction: A timeline is an ordered representation of events, generally displayed on a time scale. Many teachers have discovered the value of using timelines to help put curriculum in perspective. Timelines are efficient graphic organizers that provide a tool for studying periods of time ranging from a day, a year, a century, or the span of an individual's life or of era.

General Teaching Tips: Researching and creating timelines appeals to students' visual, mathematic, and kinesthetic intelligences. Timelines can organize research materials in a variety of ways, from storing primary source data about a topic over time to documenting the timeframe of a novel or the span of an individual's life gleaned from an oral history interview. Completed timelines can include multimedia elements and can be effectively displayed in a variety of formats, from wall hangings, to 3-dimensional "clothesline timelines", to computer slideshows.

Basic Questions
What is the purpose of this timeline?
What is the basic unit of measurement for this timeline - hour, day, month, year, century?
What local events were occurring during the period represented by this timeline?
Critical Thinking Questions (for older students)
What trends, or changes over time does this timeline suggest?
Would the trends look different if the scale, or unit of measurement, were changed?
Select 2 events on the timeline and explain what they do and do not have in common.
How were events selected for this timeline? What was left out? Would missing elements change the timeline's representation of this time period?
Which events on this timeline "caused" other events to occur? Explain.
Resources and Websites
"American History Timeline 1700 - 1930" Text and images of selected American and world events and milestones that provide a broader historical context.
"Timeliner" Educational software by Tom Snyder Productions allows students in grades K-12 to create timelines by simply entering events and dates. The program includes a large library of historical images and other clip art, and allows users to import additional images from the Web. Students can also add movies and sounds to create multimedia timelines. Completed timelines can be printed, posted to the Web, or presented in slide shows.
Timeline of the American Revolution, from "Spy Letters of the American Revolution" Uses primary materials to great effect to explore the "secret history" of communications among spies and intelligence operatives in the Revolutionary War. Includes an engaging, interactive graphic timeline.
Revolutionary Era Timeline - Timeliner 5.0 format (large file: >5MB)
Revolutionary Era Timeline (no images) - Timeliner 5.0 format (small file ~30K)
Model Lesson Materials
"American Revolution Timeline Lesson Plan". Through research and exercising their critical thinking skills, students determine which 12 events are worthy of inclusion on an historical timeline.
"Living Timeline: Celebrating a Town's History"
"Student Autobiographies on a Timeline" This lesson could be easily adapted to organize data gathered from oral histories.
"Webquests that Integrate Timelines". These use Timeliner 5.0 software but many of the lessons can be adapted to be used without it.
"Ideas for using Timeliner 5.0 Software in the elementary classroom"
"Strategies for Using Timelines in the classroom" Includes several adaptable lesson plans for creating clothesline timelines, MS Excel and database timelines.
"We've Had It!" Activities using maps and chronology to explore the lead-up to the American Revolutionary War. Memorial Elementary School, Burlington, MA
---