Massachusetts Studies Project
Teaching Tools for Local History
** CENSUS RECORDS **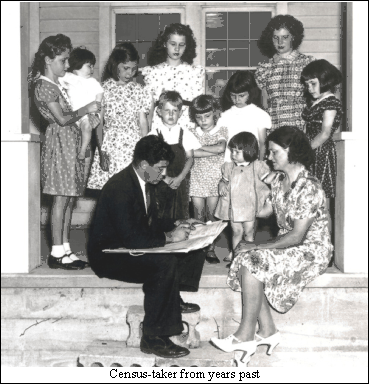 Introduction: Census records are invaluable sources for investigating population changes, family structures, immigration and economic patterns. Students can use them in conjunction with old maps to gain a clearer picture of the texture of past life. Many primary source documents that have been preserved over time, like diaries, letters and other traditional historical sources, document the lives of extraordinary or privileged people. In contrast, source materials like the census, track "ordinary" as well as "extraordinary" individuals. Examining such records allows us to begin to construct a more interestingly inclusive view of history. Population schedules can be used to study immigration, ethnicity, families, health, work and economic trends, among numerous other topics.
The U.S. has counted its population every 10 years since 1790, in order to apportion seats in the House of Representatives. Thus, in each census, Americans from the famous to the unsung and the infamous appear, including local residents, villains, and favorite figures of literature, politics and the arts. (www.nara.gov) As with any historical document, there are gaps in the coverage of the population schedules. The US Census between 1790 and 1840 is a fairly simple list of the heads of households, with combined numbers indicating others in the household. The census did not enumerate American Indians until the late nineteenth century. The 1890 U.S. Census was destroyed by fire in 1921.
By law, the records from the federal population censuses are confidential for 72 years. Thus, April 2012 is the scheduled date for the National Archives to open the 1940 records to public use.
In Massachusetts the population was counted every ten years from 1855 to 1945, but only the original population schedules for the 1855 and 1865 census still exist. All other Massachusetts State census years are lost or destroyed. The originals, as well as microfilmed copies, are located at the Massachusetts State Archives.
General Teaching Tips: Because they are "tabular data", census records can be typed into a spreadsheet or database program and then sorted, sifted, categorized and analyzed by students to determine demographic trends. Historical, artistic and literary figures can be searched for and found in census records, as well as individuals who lived and worked in the local community. Online census indices and scanned census documents can make the process of searching easy. The 1880 Census is searchable, and freely available online at www.familysearch.org
Basic Questions
Note: these questions are most suitable for post-1840 census data, when information was gathered about each member of a household, not just the head. Since the information on each census varies, research and discussion questions must be adapted accordingly. See link below for sample census forms.
What year was this census taken?
Where was this census taken (Street(s), Enumeration District, Town, County, State)
What is the identification or page number of this census sheet? Does there seem to be more than one page numbering system in place?
What is the name of the person who wrote down the census information (canvasser)?
How many family groups are listed on this sheet? How can you tell?
Who is the oldest person on the sheet?
Who is the youngest person on the sheet?
Critical Thinking Questions
What was the average age and range of ages of residents on this sheet or in this town?
Compare the percentage of residents that were male or female.
What percentage of residents are foreign born? What percentages of residents come from which countries?
What is the literacy rate among adults on this sheet or in this town?
What is the most common occupation? (Look up any unfamiliar occupations).
What is the apparent average life span in this town in 1910?
What is the typical family structure in this town?
List families by type of work (farming, specific trade, merchant, etc.). Examine the kinds of occupations for men and women. Are they sex-typed? Compare with modern family structure and gender roles.
Tally the number of families and of household structures. Often the families exceed the number of homes, and in addition, many homes had only one bedroom. Let the students think about what those numbers mean and discuss questions of personal privacy, family groupings, homelessness, and comparisons with today.
Worksheets
1900 Federal Census Sample Form
1900 Federal Census Worksheet - Discussion Questions and Calculations
Resources and Websites
"U.S. Federal Census Indices and Transcriptions" Online Listings by volunteer subscribers, organized by County. Various Massachusetts towns are represented, but not all.
"Massachusetts in the 2000 Census". U.S. Census Bureau. Statistics, comparisons, facts about people, business, and geography. Downloadable data can be imported into spreadsheet or database software.
1880 U.S. Census transcribed. Find your ancestors using this fully searchable and browsable site.
"United States Historical Census Data Browser". Provides data from census records and other government sources for 1790-1970. Users can view extensive population- and economic-oriented statistical information at state and county levels, arranged according to a variety of categories. Also includes an essay on the history of the census. Note: this is aggregate data, not data about individuals.
"Census Record Abstracts". These printable files clearly list the fields on a given federal census schedule, and can serve as worksheets for transcribing census data.
Model Lesson Materials
"The Census: Why? Learning Through Local Records" - definition of census terms, census analysis worksheets and lesson plans based on (PDF file; 6MB)
"Indians and African Americans 1780-1820". Uses the 1790 census to examine the evidence of Native American and African Americans in Deerfield, MA.
"Little House in the Census: Almanzo and Laura Ingalls Wilder". Uses the 1880 and 1900 census records to document the life of author Wilder.
"Ethnicity, Occupation, and Death in Nineteenth-Century Wisconsin" Wisconsin Historical Society. Secondary level lessons in which students they practice methods used by social historians using 1850s federal census and mortality tables.
"Using U.S. Census Population Schedules, 1900" Wisconsin Historical Society. Secondary level lessons and suggested activities that focus on math and analytical skills.
"City Census" Students utilize census information to infer and interpret information from their community. This lesson was developed by a Canadian organization called Youth Source: Youth and Heritage Learning Source, but the approach can be adapted to use with local Massachusetts census data.
---
1900 Federal Census Worksheet
Using U.S. Census Population Schedules, 1900
Developed by the Office of School Services, Wisconsin Historical Society.
Adapted from: http://www.wisconsinhistory.org/teachers/lessons/secondary/census.asp)

Examine copies of a few pages of the population schedules for your town. After studying the schedules carefully, respond to the following questions in writing or in discussion:
What kind of document are you studying?

Who collected the information? Why?

Are there any parts of the document that are illegible or confusing?

Who lived in the community? Where did they come from?

Can you infer what might have brought them to this community? (If you were to move to a new place, what might you look for?)

What seems to be the main industry in the community? How did people make their living? Can you find some occupations that people still work at today?

What can the information in this document tell you about life in 1900? Did people have larger or smaller families in 1900 compared with today? Can you think of any reasons why this might be true?

What could you learn about our community using federal census records? Would you find any of your relatives?

Do you need more information to answer any of the above questions or questions of your own?

If you had to design a new federal census population schedule, what new categories would you add and what categories would you delete?
---